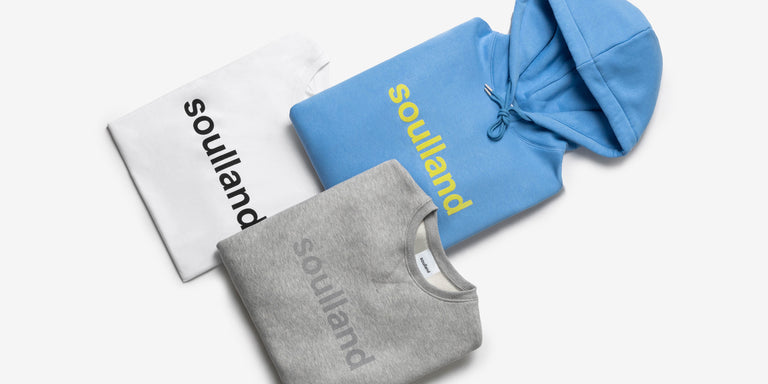 Welcome to asphaltgold, Soulland!
With Soulland we at asphaltgold welcome a fashion label that always inspires us with its creations. High fashion, classic menswear and skate style are the influences of the brand from Copenhagen, which founder and creative director Silas Adler combines into a unique style. Modern, Scandinavian aesthetics meet classic British design, and the high quality standards do not compete with the idea of sustainability. For example, Soulland sources its materials from Italy, France and Portugal from factories that comply with the Global Organic Textile Standard.
➡️ Click here to see the Soulland pieces in our online shop.
The inspiration for the collections - described by Soulland itself as "High quality menswear with a timeless twist" - are diverse in nature. From old VHS movies to Bauhaus style to Playboy covers, it's all there. The claim: cutting-edge design with an eye for detail. The result: a meteoric rise. Since its founding in 2002, Soulland has made its way into leading fashion boutiques around the globe. New York, London, Paris, Milan, Los Angeles or Hong Kong - the locations of the stores where Soulland is managed encompasses all the major fashion capitals. We are therefore all the more pleased that asphaltgold is now also part of this illustrious group (and think that Darmstadt also cuts a very good figure in the aforementioned list 😉).
Welcome excursion into foreign territory
With our soft spot for Soulland, we are in good company. Even the Danish postal service took notice of the label and commissioned Adler to design its own stamp, which was published in 2011. A first. Never before had a fashion brand been granted this honor. "The designers who have created stamps in the past are some of the most interesting people Denmark has to offer," Adler sums up the accolade. "I don't know if I belong, but it's really an honor!"
The only question that really remains is the origin of the name. Even if the assumption suggests itself, "Soulland" is not some imagined utopian place where things are particularly soulful. In naming his fashion label, Adler is paying homage to his roots. Copenhagen, home of the still young brand and since 2013 also of the first flagship store, is located on the Danish island of Sjælland. Although the English translation "Sealand" has become common among the locals, the Danish "sjæl" actually means "soul". There it shows again, Adler's love of detail.
➡️ Click here to see the Soulland pieces in our online store.