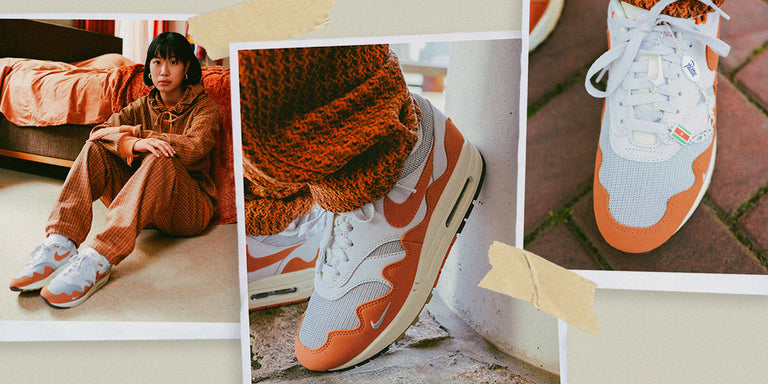 Patta x Nike Air Max 1 *Monarch* – Waves not Cycles
The Kings of Air Max Collabs are back! Patta Amsterdam and Nike have had a strong partnership since 2008, hardly any other player in the sneaker industry is as closely connected to the Air Max community as the Dutch. Numerous collaborations, including iconic models like the *Cherrywood* Air Max 1, Air Max 90 *Homegrown* or the *Corduroy* colorway have already been created.
Now Patta shows that they are far from tired and releases the Patta x Nike Air Max 1 *Monarch*, with a leather mudguard that has been reinterpreted to appear in wave patterns. The waves represent the ever-changing scene and culture that Patta always manage to adopt and stay an influential part of the community and industry. In addition, there is a contrasting mini Swoosh on the toe box (we know Air Max enthusiasts love 'em!). Patta logos are included on tongue and insole of both shoes.
Release-Infos of the Patta x Nike Air Max 1 *Monarch*.
After the *Monarch* already dropped in Amsterdam and all other Patta stores last week, the Patta x Nike Air Max 1 *Monarch* will be released at Asphaltgold this week via our app. Each pair comes in a special box and includes a Patta x Nike bracelet!
The Raffle is already running and you can still participate until 14.10./10:00 (CEST). Download the app here!
Asphaltgold is a proud partner of Patta Amsterdam – find the whole Autumn/Winter 2021 collection in our shop!
Waves Not Cycles - Nike x Patta - The Wave Ch. 1
To mark the renewed collaboration, Nike and Patta presented short films directed by emerging filmmaker Mahaneela. The creative direction was by English director Steve McQueen, who won an Oscar in 2014 for 12 *Years a Slave*.
As for what the film is about, here's what Patta say:
"The collaboration is a thematic reference to the cultural shifts and enduring influence that Patta has had on its greater community and industry. In this four-part film we follow siblings Abdul and Carista as they ride the ever-changing seas of life. The opening chapter represents the future generation. A teenager, Abdul feels trapped and wants to break free from the cycle of his life. The boy is learning who he is, in life and work, independently of his parents expectations for the environment he is in."