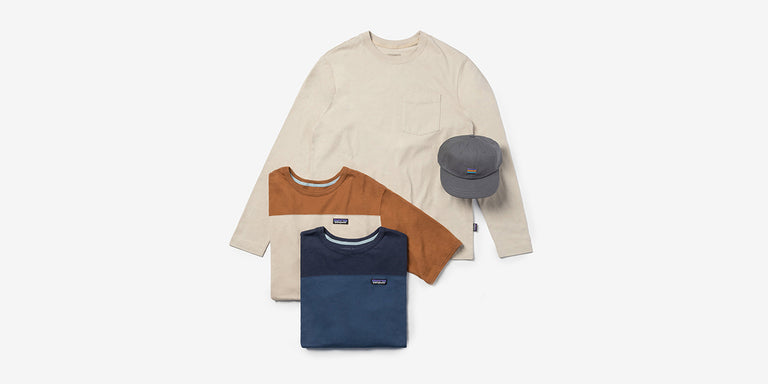 Patagonia: first mover, role model and trailblazer
"We are in business to save our home planet": The mission that Patagonia is ambitious - and justified. At the outdoor brand, the topic of sustainability is firmly part of the corporate philosophy and is given special consideration in all work processes. Patagonia founder Yvon Chouinard's love of nature, which made him famous as a big wall climber in the 1960s, is the cornerstone of the company's sustainable approach, in which Patagonia has done real pioneering work. When the brand was launched in 1973, awareness of ethically responsible consumption was far less pronounced than it is today, and Patagonia had to overcome a number of hurdles on the way to the ideal it was striving for. In the meantime, consumer behavior has changed worldwide. Many other fashion labels follow Patagonia's example and pay attention to sustainable production as well as ethically justifiable business models.
Due to its origins in climbing, Patagonia 's style is anchored between functional clothing and sportswear. Over the years, the portfolio has expanded to include sports such as skiing, snowboarding, surfing, mountain biking and trail running, and in terms of style has also opened the door to the streetwear sector. The loose-fitting longsleeves, T-shirts and warm winter jackets with the Patagonia logo, which - attention, fun fact! - the granite mountain Fitz Roy in the Argentine-Chilean Andes, have made their way into the street scene.
Patagonia subsidizes organic cotton
Patagonia's Pieces are "Fair Trade Certified™" and thus produced under fair working conditions and adequate payment. When it comes to materials, the organic cotton that Patagonia has been using since 1996 is particularly noteworthy. The use of harmful chemicals is completely avoided in the organic cotton line. With various bonus programs, Patagonia also encourages farmers to convert their production to organic, regenerative cotton cultivation. Not only are chemicals avoided, but the land is managed in such a way that the soil remains healthy and serves as a CO2 reservoir.
⟶ Patagonia Organic Cotton Line in our store.
But Patagonia's commitment to our planet does not end in its own production chain. As a co-founder of the "One Percent for the Planet" alliance, whose members donate 1% of their total sales to environmental organizations, Patagonia also actively pursues environmental aid. In addition, Patagonia is strongly committed to recycling, repairing and sharing its own products. For example, Patagonia sent a garage car across the U.S. to repair used products of its brand free of charge or placed a full-page "Don't buy this jacket" ad in the New York Times with the aim of making buyers question the necessity of their purchase decision.
First mover, role model and trailblazer: Patagonia implements the topic of sustainability authentically and sympathetically. We at asphaltgold say "thumbs up" and are happy to carry the brand in our assortment.