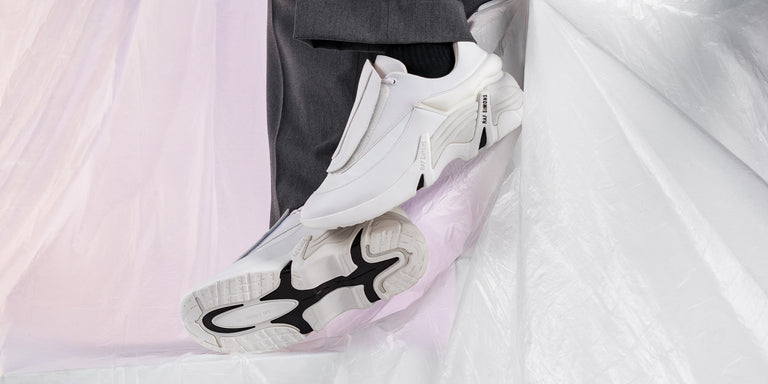 Welcome to Asphaltgold, Raf Simons!
Jil Sander, Dior, Prada - the list of fashion houses Raf Simons has already worked for reads like a who's who of haute couture. The media-shy Belgian designer has also long since made a name for himself in the sneaker cosmos. Especially his celebrated collaboration with adidas is an absolute success story. Who doesn't fondly remember highlights like his groundbreaking interpretations of the Ozweego or the Stan Smith? We at Asphaltgold are happy to be one of the few selected retailers to offer Raf Simons ' own footwear line from now on!
⟶ Go to the footwear line by Raf Simons in our online store.
The Fall/Winter Drop 20, titled "RUNNER," takes the approach of putting sportswear influences into a high-fashion context. Orion, Antei and Cylon are the names of the futuristic silhouettes with a clean-avant-garde look, which are now available in our store. With the naming Raf Simons deliberately provides an insight into the thought process behind the models: an optimistic futurism. Premium leather and suede as natural base materials, technical innovations and strong colors are the common denominator of the first "RUNNER" drop.
Between casual and business
As the "luxury version of a court sneaker," the Orion skilfully combines casual and business style and can thus be worn wonderfully both in the office with a suit and in leisure time. Its extremely high-quality leather upper and lining underscore the quality Raf Simons demands of his footwear, while the prominent heel panel reflects his love of the unusual.
Also the Antei is anything but an ordinary shoe. Its progressive shape gets an extra shot of dynamism from the playful midsole with Raf Simons print, without losing any of its elegance. The highlight: the white lace cover can be exchanged for a purple suede version.
Chelsea boot meets sneaker sole
The most eye-catching model of the Fall/Winter collection is certainly the Cylon. With its construction of a Chelsea boot sitting on a modern sneaker sole, it addresses lovers of avant-garde and cross-stylistic designs. The zipper on the heel as a creative detail is the icing on the cake, further emphasizing the Cylon's uniqueness.
All three models come with a Dust Bag, the Cylon even comes in a Special Box. You can find more photos in the gallery below. We are excited to see what ideas Raf Simons will surprise us with in the upcoming collections. We are sure that we will still have a lot of fun with his footwear!