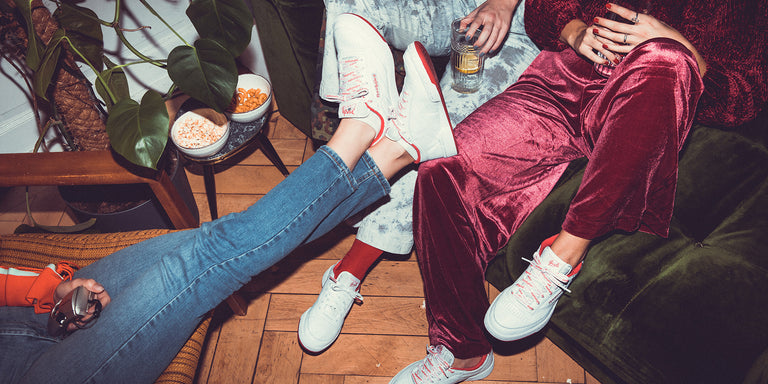 Reebok x asphaltgold Club C 85
* Death of Cute *
Ist euch auch immer mehr danach, mit den Normen zu brechen? Keinen Bock mehr auf Style-Vorschläge und stereotype Darstellungen davon, wie Frauen auszusehen haben? Ihr habt genug davon, vorgefertigte Informationen in euren Feeds sehen zu müssen? Aus diesen Emotionen heraus haben wir uns dazu entschlossen, eine Collab an den Start zu bringen, die stark und ohne Grenzen ist. Gemacht für unabhängige Ladies, die ihren eigenen Weg gehen und sich nichts vorschreiben lassen. Don't say sorry, nehmt, was euch zusteht! Lasst uns alle traditionellen Vorstellungen über den Haufen schmeißen und den * Death of Cute * in die Welt tragen!
Zusammen mit Reebok haben wir den asphaltgold Club C 85 * Death of Cute * entworfen. Die Power dieses 80er Jahre Tennis Klassikers bringen wir jetzt mit euch auf die Straße. Das zeitlose Design und das robuste Leder machen den Club C zum absoluten Alleskönner. Er ist der ideale Schuh, um Tag für Tag an den eigenen Zielen zu arbeiten und dabei Grenzen einzureißen. Der * Death of Cute * Club C ist immer die richtige Wahl, egal ob ihr damit glänzen oder regieren wollt. Auf der Arbeit macht er genau so eine gute Figur, wie auf dem Dancefloor oder an der Bar. Ihr bestimmt wie weit ihr mit ihm gehen wollt!
Wir komplettieren den Reebok x asphaltgold Club C 85 * Death of Cute * mit einigen Extras! Ein matchendes asphaltgold * Death of Cute * Beanie sorgt nicht nur für warme Ohren, sondern auch für ordentlich Style! Der Do it yourself-Gedanke steht im Vordergrund und neben einem zusätzlichen Paar asphaltgold Senkel gibt es ein Patch-Set dazu, bestehend aus sieben Patches mit eindeutigen Messages, designt von Anna T-Iron. Perfekt, um die eigene Jacke zu customizen! Damit ihr den Überblick über eure täglichen Essentials behaltet, gibt es last but not least ein universelles * Death of Cute * Mini Bag dazu.
Death of Cute - Design Contest
Weil wir die Einzigartigkeit aller Frauen zelebrieren, wollen wir, dass ihr eure ganz eigene spezielle Schuh-Box bekommt. Schnappt euch die beiliegenden Montana Marker (und andere Mittel) und kreiert ein Artwork, das euch bestmöglich repräsentiert!
Nehmt an unserem Design-Contest teil!
Kreiere dein eigenes Schuh-Box Design
Mache ein Bild von deiner Schuh-Box und poste es auf Instagram
Tagge uns @asphaltgold_sneakerstore and setze das hashtag #deathofcute
Du hast die Chance ein absolutes Unikat zu gewinnen, bestehend aus einer * Death of Cute * Goldkette mit Anhänger (18 Karat) und einer * Death of Cute * Team-Jacke
Teilnahmeschluss: 16.12.2018 | 00:00 (CET)
Instore First Release:
LADENVERKAUF (AGC | LUDWIGSPLATZ) 01.12.2018 / 18:00 (CET) ONLINE-VERKAUF 01.12.2018 / 21:00 (CET)
KEINE VORBESTELLUNG MÖGLICH
Release Event und Party
RELEASE EVENT AGC asphaltgold.club 01.12.2018 18:00 - 21:30 Uhr Free Snacks Free Drinks by Warsteiner Music by Moa Belén (AfroFeels / Wiesbaden)
RELEASE PARTY LaLucha 01.12.2018 22:00 - 04:00 Uhr Free Entry Music by Hoe_mies (Hoemies / Berlin)
Facebook Event: DEATH OF CUTE RELEASE PARTY