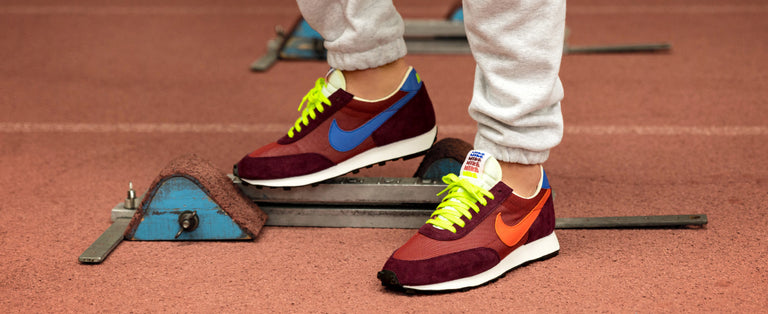 Nike Daybreak: the archetype of retro running
The late 70s were a formative time for Nike - with the waffle sole, the then young brand from Oregon made its final breakthrough on the running market. One of the pioneering models, along with the Tailwind and LDV, was the Nike Daybreak, which was launched in 1979. With a thick EVA midsole, non-slip waffle outsole and reinforced tongue, it was superior to its competitors on the track and well ahead of its time.
So we're all the more pleased that Nike has released a Retro this year - exactly 40 years after the model's introduction. After the first OG Retros and a few other classic colorways, two new colorways are now available in Silver Pine and Cedar, and they cut a similarly fine figure on the street as the 1979 OGs did on the running track! The slim shape, classic with suede and mesh on the upper, and the waffle sole provide the perfect retro running look! Special highlights of the two new colorways are the colorful tongue labels and the different colored swooshes.
The Nike Daybreak can be easily combined both smart casual with chino and shirt as well as with casual dad jeans in everyday life.
Click here for all colorways of the Nike Daybreak!
Speaking of which: Do you know the myth about the waffle sole and why they are called that? At the beginning of the 70s, almost all running shoe manufacturers had problems with their conventional soles - a good grip was not given on all surfaces and in all conditions. For years, Nike co-founder and track coach Bill Bowerman experimented with a solution to this problem, until he came up with a simple as well as brilliant idea over breakfast. The surface of his waffle inspired him to create the sole design of the Waffle Trainer, whose sole was initially actually produced using conventional waffle irons - the beginning of a success story that continues to this day! Today, the waffle iron is on display in the Nike Museum at the headquarters in Portland and is guarded like the holy grail.