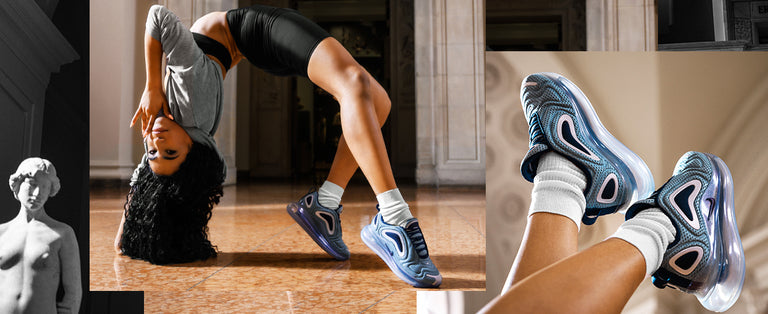 Nike Air Max 720 - a new way of thinking
Celebrating the new addition to the Air Max range, we chose the most contrasting environment for a video shoot: the world of a ballerina. In doing so, the progressive Air unit flawlessly complemented the sensual attitude of the dancer. The graceful aesthetic of our ballerina was given a fresh urban look with the help of the new Air Max 720.
With the release of the new Air Max 720, Nike takes a quantum leap in footwear design and technology. The futuristic appearance of the silhouette heralds a new era for the Air Max series and its fans. While the upper is distantly reminiscent of the Air Max 97 with its side logo placement, the team led by Dylan Raasch made a conscious decision to go for a no-compromise, never-before-seen look.
The name of the latest Air Max model derives from the fact that you can see the cushioning both vertically and horizontally to 360 degrees. The Air unit of the 720 tops that of the Air Max 270 by another six millimeters in height and also takes a more sustainable approach. The material used for this consists of 75% recycled material. Inspired by various natural phenomena, the first colorways come leaning on the aurora borealis. The designs of the Air Max range have always been radical and regardless. With the Air Max 720, Nike makes a huge push forward and catapults itself once again to the limit of what is possible.
At this point, a huge thank you to the neighbors of the Landesmuseum Darmstadt, who made it possible for us to shoot in this extravagant location.
ONLINE SALE 01.02.2019 / 09:00 (CET) NO PRE-ORDER POSSIBLE