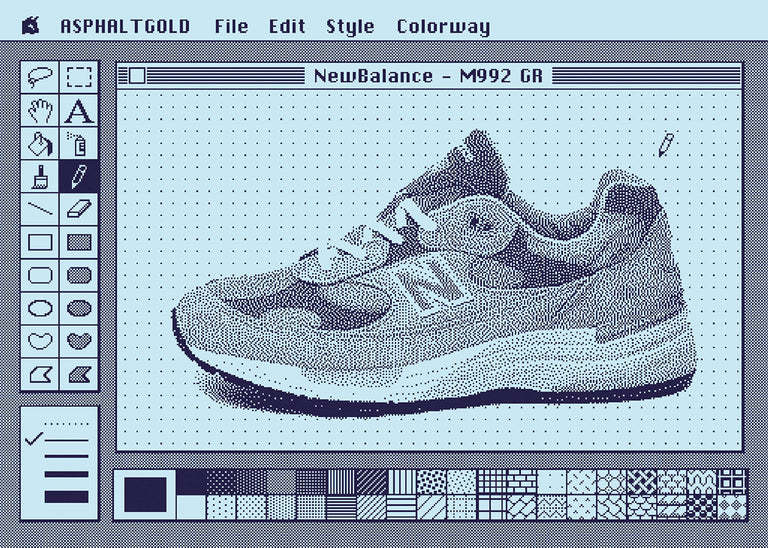 New Balance 992: The message is in the colorway
When Apple's former CEO Steve Jobs uttered the obligatory "one more thing" in his legendary keynotes just before the end, it was usually a particular shoe in which he did a 180-degree turn to return to the center of the stage and present the real highlight of the evening. The New Balance 99x range was high on Jobs' list. His favorite model: the New Balance 992.
Introduced in 2006 to celebrate New Balance's 100th anniversary, the shoe embodied Jobs' ideal aesthetic sensibilities. "Design is not just what it looks like and how it feels. Design is how it works," Jobs once summed up his view of things in a famous quote.
➡️ Click here for the New Balance M992GR in our online store.
Its cohesive paneling of suede and mesh parts, including the clasp on the toebox, and dynamic shape give the New Balance 992 a sporty elegance. Gray colorways are New Balance's specialty. No brand has perfected the play on "achromatic color" like this, and the 992 is a shining (pun intended!) example. The tonal OG colorway in various shades of gray makes the shoe a timeless classic with many possible combinations.
Technically, the 992 also meets the highest standards: ABZORB cushioning offers outstanding comfort, while Ndurance technology- a special rubber compound - makes the Outsole particularly durable. In addition, the 992 is part of New Balance's "Made in USA" line, which stands for a particularly high quality of workmanship thanks to handcrafting and puts the icing on the shoe's cake.
Colorway in the style of the old Apple logo
For the re-release of the New Balance 992, which is becoming increasingly important in the current normcore vibe, the brand from Boston has come up with a special treat. In addition to the aforementioned gray colorway, a completely colorful colorway will be released in April under the model name M992MC, which looks like a counter design to the M992GR. However, connoisseurs will notice that the choice of colors was not made entirely by chance. The color palette comes from the "rainbow" apple logo that Apple used from 1977 to the late 90s.
With this release,New Balance thus pays elegant posthumous homage to one of its most important ambassadors (Jobs succumbed to cancer in 2011). We at asphaltgold also take the drop as an occasion for a Jobs homage and include an exclusive poster with every New Balance 992. The motif is a nod to vintage Apple ads and plays on another famous quote from the visionary tech guru.
Online release coming soon (we'll keep you posted).
➡️ Check out the New Balance M992GR in our online store here.