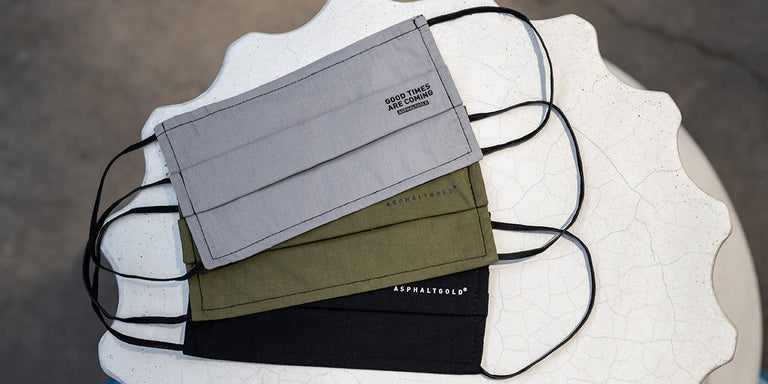 asphaltgold Face Masks - show face, wear a mask!
Under normal circumstances, "showing face" is a sign of civil courage. In times of the Covid 19 pandemic, the opposite principle applies. Wearing a mask significantly reduces the risk of transmission of the Corona virus and is thus a symbol of considerate coexistence. In stores and public transportation, it is even a legal requirement in Germany. According to the motto "Show your face, wear a mask!" we therefore now offer our own asphaltgold Face Masks in three different colorways and two sizes.
⟶ Go to the asphaltgold Face Masks in our online store.
While the olive green and black m asks with discreet asphaltgold branding give off a minimalist-clean look, we want to give motivation and confidence in this not-so-easy phase with the "Good Times Are Coming" lettering on the gray model. We paid special attention to the quality and wearing comfort. All asphaltgold Face Masks are produced in Bulgaria, are made of 100% cotton and have an adjustable metal noseband, elastic loops and a thin felt insert. Various shots of all models can be found in the gallery below.
Face Masks also available as bundle
The masks cost 9.50€ each, or 25€ in a bundle of 3 and are shipped at the special shipping rate of 3€. A bundle is either 3x the same color way in the same size, or a mixed set, in which each color is included once - also in only one size. A combination of both sizes is not possible in the bundle. Each mask is packed individually in a transparent zip bag.
For correct use and longest possible durability, we ask you to consider the following points: The asphaltgold Face Masks do not have a medical certificate and are not medical devices in the sense of the Medical Devices Act (MPG), but are classified as personal protective equipment (PPE). The asphaltgold Face Masks must be washed before first use - we also recommend washing after each use (washable to a maximum of 60 degrees Celsius). Size S-M is designed for women, size M-L for men. As asphaltgold Face Masks are hygiene products, we ask for your understanding that they are excluded from exchange once the hygiene seal has been removed.
⟶ To the asphaltgold Face Masks in our online store.
Show your face, wear a mask!
Stay safe, Team asphaltgold