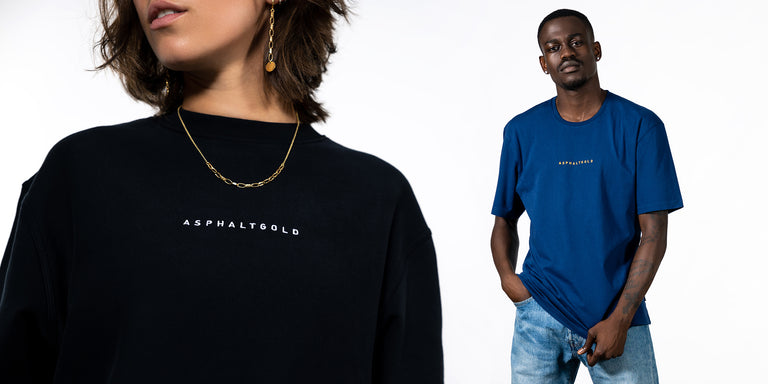 ASPHALTGOLD essentials - drop one
Founded in Darmstadt in 2008, asphaltgold has been an integral part of the global sneaker community for over 10 years now. In addition to the AGC as a second stationary space and a steadily growing crew, our aspiration for the brand ASPHALTGOLD is also increasing. We are now taking the next step and launching our first own apparel collection: the ASPHALTGOLD essentials.
What Dani already made himself in his office years ago, has now been tackled holistically and designed as well as implemented: From self-made shirts, which he printed himself in his office at Friedensplatz, to the first own ASPHALTGOLD essentials line. A long journey, dozens of decisions - but all with the same goal: to carry the ASPHALTGOLD brand confidently to the outside world!
essentials - drop one
For the first time we are launching with selected pieces and single collections, aiming to combine our streetwear affinity with uncompromising product quality. All pieces are made in Portugal. Our collection is produced there in a small company with high quality and under fair conditions.
| | |
| --- | --- |
| | |
| | |
| --- | --- |
| | |
The first drop consists of a total of three streetwear classics: tees, crewnecks and hoodies, each available in different colors. With sizes XS to XXL, we guarantee that there is the right piece for everyone! In addition to color and material, the fit is another important criterion. All pieces sit loose but not too boxy and each has a slight drop-shoulder shape. The attention to detail is reflected in the perfect fit and the selected make. For example, the crewnecks and hoodies are made of comfortable French Terry. We have deliberately chosen our new script logo. Placed in the center, the high-quality embroidery underscores the demand for a timeless design. This understated look is complemented by the flag label on the side with the famous stripes of the ASPHALTGOLD cat.
On 24.08.2019 it is finally time and the wait is over! We are proud and excited to present you the first drop of our ASPHALTGOLD essentials! From 11:00 (CEST) the pieces will be available in the AGC and from 18:00 (CEST) online.