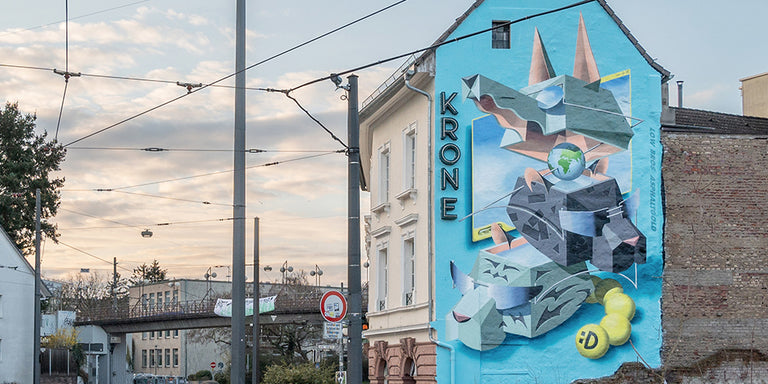 Air Max Day 2021 - "A fresh coat for our future".
On March 26, 1987 Nike with the Air Max 1 a shoe that launched the legendary Air Max line. Later iconic Air Max models such as the Air Max 90 or the Air Max 97 made the series so popular that Nike has declared March 26 Air Max Day since 2014, regularly surprising the sneaker community with cool promotions on that day. In 2021, Nike Air technology will be celebrated once again and Asphaltgold will of course be part of the party!
"A fresh coat for our future" is the motto under which we want to donate hope in the demanding time of the pandemic together with Nike. The result is a large-scale mural on the outside wall of Darmstadt's cult discotheque Krone, which will hopefully bring double joy. The new paint job is fresh in more ways than one.
Mural ensures clean air
The mural was painted with innovative Airlite paint, which has a strong air-purifying effect thanks to patented technology and was awarded the Gold Certificate of the NGO "Cradle to Cradle" for this. When exposed to sunlight, Airlite absorbs nitrogen oxides and reduces up to 88% of pollutants in the air.
To ensure that the mural also has absolute top-level visual appeal, we brought the renowned Berlin-based artist duo Low Bros on board. The brothers Christoph and Florin Schmidt are known for their captivating designs, which often focus on the tension between tradition and progress. There are also deeper thoughts behind the mural. As a kind of avatar for the viewer, the characters represent human behavior. Like smartphones, their sunglasses represent an interface between the digital and analog worlds. In addition, the characters pick up elements of various Air Max models. While the wolf, looking optimistically into the future, is a classic Air Pad, the tiger in the middle alludes to the Air Max 97.
New Nike model combines tradition with the future
That leaves the lower tiger, whose "colorway" and sole reference a shoe that has yet to see the light of day in the sneaker world. After all, an Air Max Day wouldn't be an Air Max Day if Nike didn't traditionally present its fan base with a completely new model. This year the silhouette is called Nike Air Max Pre-Day and combines vintage running with modern, reduced design. Waffle-era influences meet contemporary elements like the elegantly dynamic eyestay waistband or the hollowed-out midsole.
Happy Air Max Day!