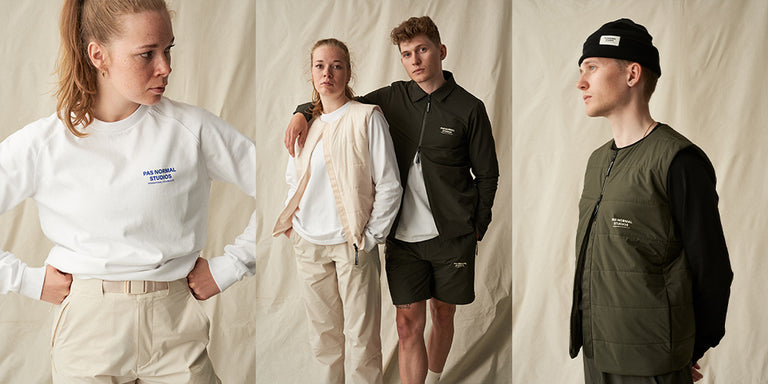 WELCOME TO ASPHALTGOLD, PAS NORMAL STUDIOS!
It's no secret that Copenhagen is one of the absolute fashion capitals of the world. Neither is the fact that Denmark is a country with a great cycling history. And so it is only logical that the Danish capital is the perfect base for the brand Pas Normal Studios, founded in 2014. Pas Normal Studios represents. Because the focus of the brand, which has managed to establish itself in the Beletage of the fashion world from Northern Europe in a very short time, is on technical cycling wear with the highest standards in terms of quality and visionary aesthetics. We are happy to be able to offer the streetwear-oriented collection called "Off-Race" by PNS from now on! Welcome to Asphaltgold, Pas Normal Studios!

⟶ To Pas Normal Studios in our online store

NO NEWBIES IN THE FASHION INDUSTRY.

Functionality, style and comfort are the key criteria that were focused on during the development of the "Off-Race" collection, and thanks to the use of high-tech fabrics and innovative manufacturing techniques, they have been met to the great satisfaction of customers. The design? Stylish, timeless and subtle. No wonder: the founders of Pas Normal Studios include Karl-Oskar Olsen, along with Peter Madsen, Tommy Pedersen and Brian Nygaard. The designer, who counts Le Corbusier and Mies van der Rohe among his influences, is no stranger to design. With his label, also based in Copenhagen Wood Wood he has long been a fixture in the closets of fashion-conscious millennials around the globe.
FROM INSIDER JOKE TO OWN BRAND

In terms of name, Wood Wood is also where Pas Normal Studios has its roots. The legendary term "not normal," which famous cyclist Lance Armstrong first used to mock the performance of his obviously doped fellow cyclists (and later had to put up with a lot of gloating after his own conviction, not least because of it), was once seen in its French translation on a Wood Wood shirt. Olsen suggested creating his own brand from the insider joke, which met with broad approval from Madsen, Pedersen and Nygaard. In the meantime, however, the founders no longer see the name necessarily as a reference to Armstrong, but to how the brand sees itself in the cycling industry: not normally. And that's exactly why Pas Normal Studios fits so well into our portfolio.

⟶ To Pas Normal Studios in our online store