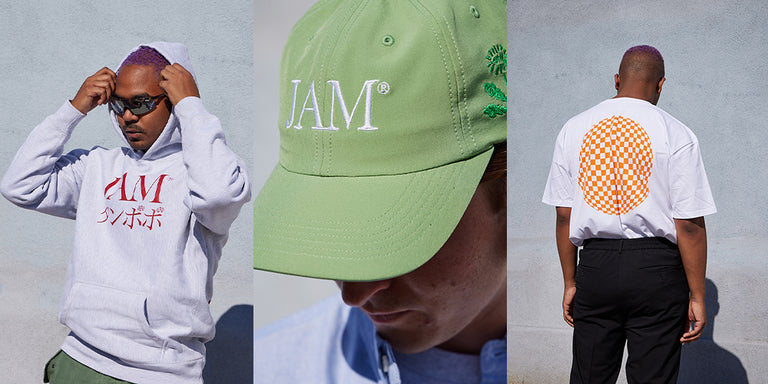 Welcome to Asphaltgold, JAM!
A catchy basic concept, an individual style, a dash of DIY attitude and last but not least a likeable mastermind in the background are important factors that make a brand interesting for us. In the case of JAM , these criteria are fully met. The brand from Los Angeles was only founded in 2018 and has quickly earned a place among the ranks of hip newcomers in its still young history. We at Asphaltgold are happy to be able to offer you the brand in our store. Welcome to Asphaltgold, JAM!

⟶ To JAM in our online store
Influences from various directions
Nature, architecture, music and graphic design are influences that play a major role in JAM's collections. The melange of different ideas and the taking up of known patterns results in motifs that are meant to provoke thoughts.

The only thing left is the mastermind behind the brand. Sam Jayne is the founder of JAM, and if you have a little fun with phonetics, you can guess how the brand got its name. As a creative director for various agencies and projects, Sam Jayne had an impressive CV before he wanted to realize his own creative ideas with JAM.
Orders from Nike headquarters
That often includes putting his own twist on popular graphic elements. "How can I make something look familiar and totally weird at the same time?" is how Jayne describes his motto. For example, he rebuilt the motif of the Olympic rings or alienated Nike's legendary swoosh. An affront? On the contrary! Not only the numerous orders from Nike employees themselves show that Jayne always treats the original templates with respect and uses them as inspiration for a new message.
"Ceramic Sport" is the name of JAM's current collection, which consists of caps, tees and sweaters. And the name says it all: the casually cut pieces feature prints of ceramic vessels and sports references. The vibe fits perfectly with the upcoming summer. Just take a look!

⟶ To JAM in our online store