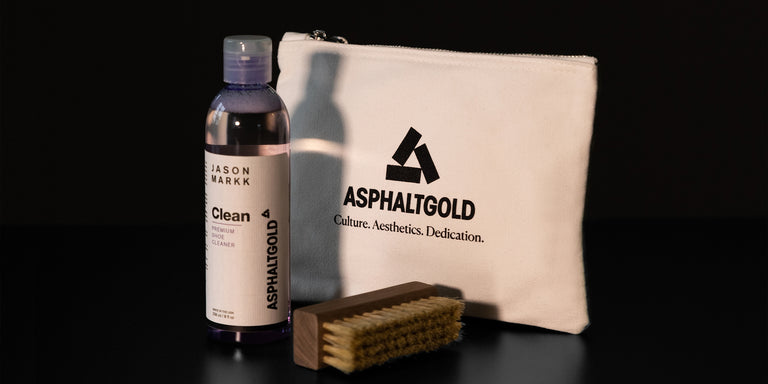 Jason Markk x Asphaltgold Cleaning Kit
Your shoes are actually new but don't look like it anymore? The walk in the woods with the dog didn't do the white Air Force 1 so well? Didn't you even drip ketchup on them the other day? Don't worry, we've come up with something for you.
Together with Jason Markk we present our limited edition Jason Markk x Asphaltgold Cleaning Kit. It consists of a soft premium brush, an 8 fl oz (236ml) bottle of Jason Markk Sneaker Cleaner and a canvas bag to take the kit with you on the go. The cleaner and bag are branded with the Asphaltgold Stack logo. The combination of Premium Brush and the large 8 oz bottle of cleaner has not been available in stores before!
From now on the Jason Markk x Asphaltgold Cleaning Kit is available at our store - online as well as instore at Ludwigsplatz. But beware, the number of pieces is limited! By the way, our Cleaning Kit with Jason Markk is also perfect as a (Christmas) gift for every sneaker maniac.
⟶ Go to the Jason Markk x Asphaltgold Cleaning Kit in our online store.
How to clean your sneakers with Jason Markk
Clean sneakers in 5 steps:
Moisten the Premium Brush with a little water. It's best to have a bowl of lukewarm water at hand.

Add a few drops of Jason Markk Sneaker Cleaner. Drip the cleaner onto the brush, not into the water bowl.

Lather the Premium Brush with water so that the bristles are barely visible under the foam.

Brush the surface of the shoe with the foam (smooth leather & synthetic materials) in circular motions. Lather the shoe properly and let the whole thing soak in for a few minutes.

Wipe off the foam with lukewarm water and dry the shoes. You can let them air dry or use a soft cloth. If the shoes are still not completely clean, simply repeat the steps!
After that you can enjoy your clean sneakers again!