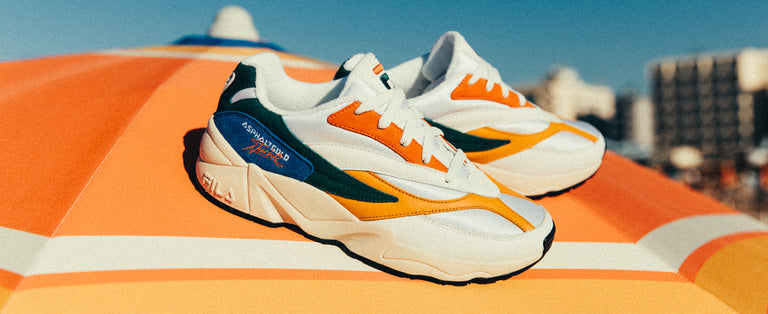 FILA x asphaltgold V94M "i Turisti"
The Evolution of the German Tourist: between gelato, parasol and SPF 50
Germans. Known all over the world as over-correct human law enforcement officers, they only really develop their desire to "break the rules" and "just let go" when abroad. If you talk about typical German tourists nowadays, many people's alarm bells go off and the mental cinema begins: they wear white tennis socks in sandals, pineapple is a must on Italian pizza, and they are the first to reserve a lounger by the pool. Especially in Southern Europe, this image has now burned itself into the heads of locals.
Cliché? Yes, thank you! We at asphaltgold celebrate the "style icons" of the 80s and 90s vacations and have teamed up with none other than the Italian brand FILA to continue the nostalgic charm on a collab. The result is "i Turisti" - footwear that will melt any gelato and elevate our fashion heroes to the next level!
The FILA V94M "i Turisti" takes its color cues from Bibione's famous parasols, so we gave our shoe a vacay makeover to match. Because in our opinion it's never too late for "vacation, vacation in Italy"! The V94M stands for an absolute 90s revival. What used to be a symbol of contemporary sneaker aesthetics is absolutely trendy today. In addition to its Bibione colorway, the V94M convinces with an upper mix of leather, suede and mesh and sits on a chunky off-white midsole. The "i Turisti" look is complemented by the asphalt gold and Fila sticks on the outside of the shoes, respectively, and completed by the parasol and beach lounger on the insole.
Are you up for nostalgic flair and want to flex despite sun protection factor 50? Then grab a pair of our unique collaboration on 05.10.2019 and spray dolce vita vibes on the streets of your home.
INSTORE FIRST | 05.10.2019 | 11:00 (CEST) | AGC am Ludwigsplatz REMAINING QUANTITIES ONLINE | 05.10.2019 | 19:00 (CEST)
FILA x asphaltgold V94M "i Turisti" EU SIZERUN: 36 | 37 | 38 | 39 | 40 | 41 | 42 | 43 | 44 | 45 | 46 | 47
Exclusively with every pair of sneakers you get a FILA x asphaltgold "i Turisti" beach towel as well as a mini fan to keep you cool on hot beach days. But that's not all: In addition to the FILA x asphaltgold V94M "i Turisti", the first 50 INSTORE buyers will receive a limited edition cooler for any provisions. So nothing stands in the way of your next camp-out!
Exclusive Release Event
"Break the rules" and "just let go" is exactly what you need right now? Then come around! We celebrate our exclusive collab with a fat release party and fresh line-up!
RELEASE EVENT @ AGC asphaltgold.club from 11:00 (CEST) Instore first! Remaining quantities from 19:00 (CEST) online!
RELEASE PARTY @ LaLucha from 22:00 (CEST) Free Entry!
Event Recap
Thanks to everyone who was there, bought the shoe and partied and danced with us!
Shoutout to our acts for the perfect Vacay Vibes: TRVE HILL | thatboii.wave A.tari | thatboii.wave Venti | thatboii.wave